Bell's

Bodies
Fitness
Bell's Bodies is a virtual and in-person personal training center based in the South Jersey area. We offer virtual training from anywhere in the United States as well as in-home and in-person training for residents in the Haddonfield area, including Voorhees, Haddon Township, Oaklyn, Bellmawr and other neighboring communities. We can help you look better, feel better, and improve your overall outlook on life. Read More >>>
We believe in "changing lives through exercise", and that's what we do every day!
Testimonials
Slide 1
"Bells Bodies, Chris and Jen, are extraordinary! They truly love their "tribe" and will support them through life's hurdles while also giving them a healthy and knowledgeable workout. I personally have benefited physically and mentally through some very tough times. I am certain that their care and expertise over the past 9 years has helped me to deal with metastatic breast cancer. You couldn't find a more conscientious group to help you reach your goals." - Barb R.
Slide 2
"Bell's Bodies is more than a "gym." When I started training here a few years ago, I was overweight, out of shape and had no real motivation to exercise. Chris Bell and Jen Cassel are professional, motivating and fun to train with. Classes have people of all ages, are encouraging and welcoming. Even Bootcamp is tough but fun. Bell's Zoom classes and training kept me in shape through the pandemic. If you want to work with dedicated trainers who care about you- this is the place." – Debbie M.
Slide 3
"I've been a part of the Bell's Bodies 'family' for 12 (13?) years, starting with 2 classes a week. Fast forward, I am now working out 7 days a week. Chris and Jen are professional, with workouts that are always challenging and varied. Did I mention challenging? Saturday outdoor Bootcamp, weather permitting, is sometimes difficult, but always doable and fun. The Zoom classes have kept me motivated, in touch with the 'family', and laughing. They 'meet' you where you 'are', suggesting a modification when needed. They have seen me through knee surgery, training for the Malibu Triathlon, breast cancer, and currently another medical issue. They care. And Chris and Jen will bring out your 'inner athlete'!" – Linda G.
Slide 4
"Bells Bodies is more than a fitness studio - we are a family - a tribe. One that cheers and motivates each other and we have so much fun working out together!" – Amy I.
Slide 5
"I have been with Bell's Bodies for 15 years. Chris is not just a trainer, he is a friend. Someone who pushes you out of your comfort zone to be a better person in every way of life, including fitness. He is always trying to change things to make your fitness fun." – Kathleen F.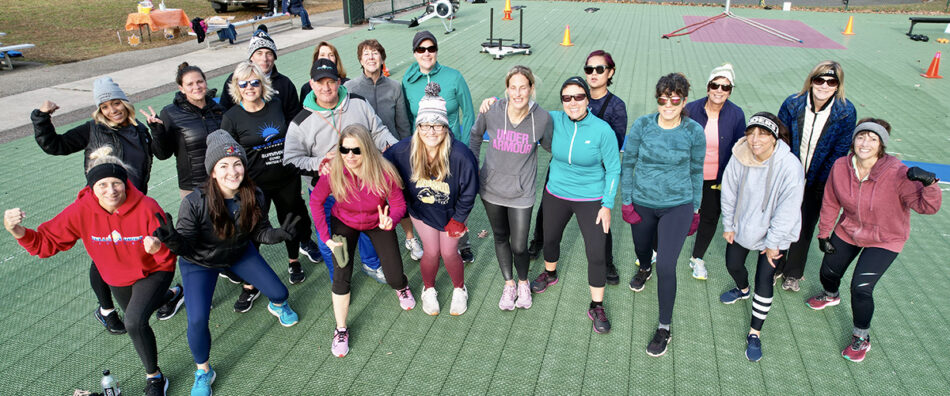 After many years in the fitness business, Bell's Bodies has enjoyed great success through longtime satisfied customer relationships, word of mouth and our ability to serve our fitness family members in the toughest of times. We're always looking to improve our customer service, and we're […]